BE REMARKABLE OR YOU WILL BECOME IRRELEVANT
by Gary Ryan Blair
"Mr. Irrelevant" is the title bestowed each year upon the last pick of the annual National Football League draft.
The name evolved simply because the last pick in the draft was often considered irrelevant because the player many times failed to make the selecting team's roster.
I'm sharing this concept and ringing a loud bell with you today because I want you to "get the message" that, you're either…
REMARKABLE OR IRRELEVANT
Irrelevant is defined as being; unimportant, without use, besides the point, and something not worth mention or attention.
I think it's fair to say not one of us would want the title of being Mr. or Ms. Irrelevant.
Sadly though, that is the uncomfortable reality faced by many people, occupations, businesses and even entire industries.
REMARKABLE TODAY, IRRELEVANT TOMORROW
When people and companies achieve success, they too often quit innovating and become guardians of the status quo. Their teeth are not sharp…and they are not as hungry as they once were.
That's where the seeds of irrelevancy get planted as without ongoing growth, training and innovation…today's perfect process, strategy, hype or competitive advantage can be exploited and made obsolete tomorrow.
Sears is irrelevant, Amazon is remarkable.
Blockbuster is irrelevant, Netflix is remarkable.
Compag is irrelevant, Apple is remarkable.
The Olympics have become irrelevant, Tough Mudder has become remarkable.
Cab drivers have become irrelevant, Uber and Lyft have become remarkable.
The lesson to learn here is that being remarkable…is a temporary condition…a constantly moving target.
Never assume you've arrived. Stay hungry. Keep innovating…and Remain Paranoid as they (competitors as well as known and unknown technologies) are out to get you.
We must all accept the fact that we are in for a lifelong battle…we're either remarkable or irrelevant.
This good news is that…
BEING REMARKABLE IS A CHOICE
Standing out form the crowd, being useful and remarkable…and being worthy of notice and attention begins with a simple decision.
If you want to break out of the mold of average, the first thing you need to do is to make a decision to be radically different.
REMARKABLE people are people of action, and for a good reason: if you don't take decisive action, nothing will ever change.
But this first step is entirely mental. It calls for a clear decision to rise above the culture of mediocrity. And then, of course, it calls for action.
(Bonus: Here's a Great Way to Unleash a Performance Explosion.)
SO, how do you decide to be remarkable?
The following are EIGHT REMARKABLE STRATEGIES for standing out from the crowded field of mediocrity:
1. Question Management
When someone asks you a question, make sure they get an answer bigger, richer and far more thought provoking than they ever expected.

2. Problem Management
When someone brings you a problem, bring them a solution that not only solves the problem, but which also delivers and opportunity for them to capitalize on.
3. Project Management
When someone gives you a project, see to it that they get a plan that is bolder, more ambitious and more detailed than they hoped for.
4. Deadline Management
When you take on a task, finish it under budget, before deadline, and with a cheerful attitude.

5. Conflict Management
When a customer has a concern, go the extra mile as a policy, and blow their mind by your professionalism and responsiveness.

6. Quality Management
When you do your work, make your name and results synonymous with excellence, consistency, originality, and speed.
7. Meeting Management
When you participate in a meeting, anticipate questions, come fully prepared, and contribute your ideas with clarity and conviction.

8. Expectation Management
When you engage in any activity, under promise, over deliver and demonstrably exceed all expectations.
If you think about it, individuals are not much different from companies.
Having a trusted personal brand, and a reputation of being remarkable, uncommon and extraordinary, nets you the same advantages as a company.
You're likely to foster loyalty, be trusted, be forgiven for occasional mistakes, and earn more money, especially if you develop a reputation for delivering insanely good and consistent results.
We all build, manage or destroy our personal brand every day through our character, choices, attitudes and actions.

With that said, you've go an important question to answer each day of your life…
"What are you going to do today to stand out from the crowd, to be different, to astound and amaze, to be unforgettable and remarkable?"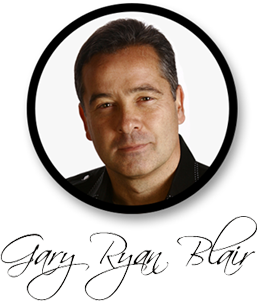 Want To 10X Your Growth?
While I can't promise that you'll be taller, better looking or have improved gas mileage as a result of using these resources… I can promise that what you'll learn will help you to transform your life… and fast track all of your goals.
Download this new Manifesto and free video series.
Posted on March 28th, 2018 by Gary Ryan Blair