Bruce Lee's $10 Million Dollar Goal
by Gary Ryan Blair
"Knowing is not enough, we must apply.
Willing is not enough, we must do."
– Bruce Lee
At Planet Hollywood in New York City, there is a letter hanging on the wall that martial artist and actor Bruce Lee wrote to himself.
The top of the letter, which Lee HAND WROTE and dated January 9, 1970, has stamped on it "SECRET".
It starts out, "By 1980, I will be the best known Oriental movie star in the United States and will have secured $10 million dollars."
The most interesting part of this letter, however, was the second part-the part…the part often omitted when we sit down with ourselves to set goals.
Lee goes on to write…
"And in return I will give the very best acting I could possibly give every single time I am in front of the camera and I will live in peace and harmony."
How fascinating that Bruce Lee wrote he would have peace and harmony after he said what he would do to obtain his goal.
WINNING THE GOLD
Similarly, Michael Johnson, the Olympic champion sprinter, had a written goal to win Gold medals in both the 200 and 400 meters sprint at the 1996 Summer Olympics in Atlanta.
In fact, he wrote those goals down along with the times he would win them in…and then inserted them into his shoe. He repeated this discipline during practice runs and on race day at the Olympics.
The problem, however, was that the 200 and the 400 were traditionally run on the same day. This would have made it almost impossible for him to win because of recovery time.
After setting this goal, Johnson remembered something his father asked him every time he set a goal when he was a young person…
"What are you going to do about it? and "Now that you have a goal, how are you going to achieve it?"
Johnson developed a workout regime with his coach that involved specific weight training, stretching and running intervals five days a week.
In addition, he successfully petitioned the Olympic Committee daily to move the 200 and the 400 meters to different days.
TWO TYPES OF GOALS
There are two kinds of goals…product and process goals.
A product goal is what you are going to achieve, such as, "I will become the sales manager by next June," or "I will be the #1 sales representative of my organization by year-end."
A process goal is what we will do to get it…which means developing a "prescription for success."
This is a plan that winners will follow very closely in their daily work habits and periodically evaluate themselves on.
WHAT'S LOVE GOT TO DO WITH IT?
This part is so important because…you need to fall in love, not with what you are trying to accomplish, but with the process of accomplishing it.
All the great ones understand this. It's not that they always love the work…but they have deep reverence and the highest regard for the process.
The process includes practice and preparation, discipline and dedication, hard work and heart and soul, as well as other noble virtues that shape your character and winning attitude.
After winning, most champions do not talk about what they accomplished, but what they have learned from the process and how that has helped them become a more successful person.
(Bonus: Here's a Great Way to Unleash a Performance Explosion.)
They have thought more about the process of what they achieved that brings about growth of self and community than anything else.
And, you must learn to do the same.
I see myself as a teacher of something much larger than just the subjects of goal achievement and success.
By sharing and teaching you about the importance of process, as opposed to product, that understanding will help you obtain success throughout your life.
While it is important for you to focus on your destination, you must until you get there, keep your eye on the map – the process. The process is what champions are truly made of.
THE $12 MILLION DOLLAR GOAL
Movie star Jim Carrey set a product goal to sign a movie deal for $12 million dollars. The problem was, he was a stand-up comic in Los Angeles.
When he set the goal, he hand wrote a $12 million dollar check ($12,000,000.00) to himself and carried it with him.
He then left stand-up comedy, which his friends thought he was crazy to do, and went on the show "In Living Color."
He kept locked in his mind the product, a $12 million dollar movie deal. He kept moving up and finally signed a major motion picture deal, Batman Forever.
How much?
$12 million, of course.
In the attempt to reach the end result, it is the process that gets us there. It is seeing the product that keeps us hungry.
Seeing the reward and even writing a check out to yourself in the mind's eye, has a strange way of helping dreams become a reality.
Everything that was ever built – buildings, careers and champions – first existed as a thought, pure vapor that you pull out of the sky.
Which means that goal setting is the process of creating something out of nothing.
Holding on to the thought has a strange way of inviting people and places into our lives to "make it happen." I can't explain it, but I know it is true.
Seeing yourself in a positive light and believing that you are good helps you to become that vision. You will strive for being what you think you are. You do not become a champion, you are a champion and you simply think, act and behave what you think you are.
This all boils down to this, winners must think highly of themselves to become winners. To do this, visualize being a winner, a champion.
CALL TO ACTION
Write down your goal and grand vision. Place it somewhere…preferably in a high contact area such as the wallpaper on your computer or phone as well as a mirror. The goal is to keep that goal at the forefront of your mind.
Know that a champion isn't something you will become, rather it is something you already are. You just need to climb up the steps of the process to get there.
Learning how to visualize your way to success, and the importance of written goals as well as a proven process are just three of the many life transforming messages you'll enjoy once you enroll in the 100 Day Challenge.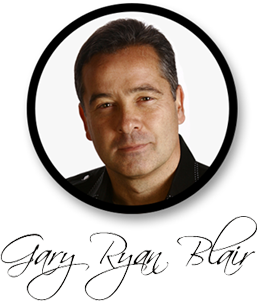 Want To 10X Your Growth?
While I can't promise that you'll be taller, better looking or have improved gas mileage as a result of using these resources… I can promise that what you'll learn will help you to transform your life… and fast track all of your goals.
Posted on April 2nd, 2018 by Gary Ryan Blair